"Good cars can get you from point A to point B. And great cars? Well, they'll just get you into trouble."

Transportation Services in Las Vegas, NV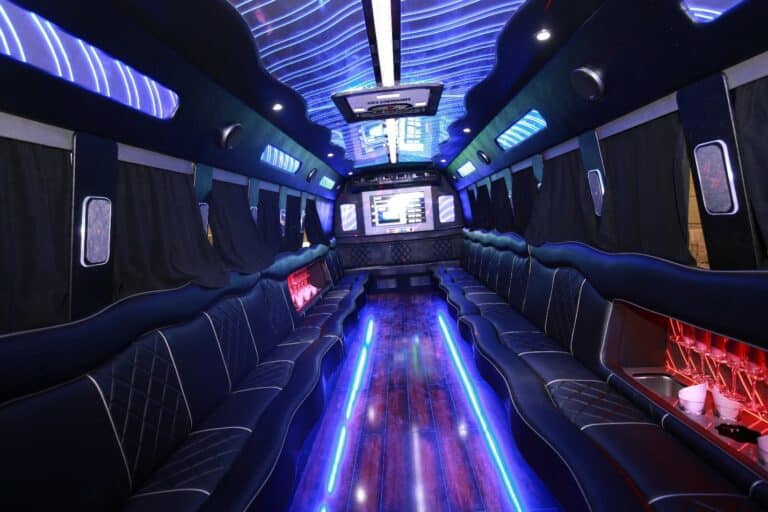 Luxury Car Transportation Services in Las Vegas, NV
For the ultimate golf vacation experience, Golf Venture is here to provide you and your party with elite transportation services in Las Vegas, NV. Founded by two golf fanatics with a passion for living life to the fullest, Golf venture offers customized party experiences for your complete satisfaction.
We use our extensive knowledge of the city, affordable rates, and client service expertise to provide an event you'll never forget. Our selection of cutting-edge party buses, limos, and exotic cars come equipped with the amenities you need for your pleasure. Celebrate you bachelor party and corporate successes with an accommodation transportation to and from your destinations. We're here to give you an unforgettable experience.
Explore Our Quality Transportation Services
We provide elite-class party buses, limos, and exotic cars for the ultimate entertainment experience. Whether you want to hit our luxury golf tracks, provide you and your buddies with a wild bachelor party, or impress you company with a fun-filled business party, we offer a range of buses and vehicles that will satisfy your needs. For an event you always remember, we provide the following:
Party Bus: Get the party started with our state-of-the-art luxury party bus. Sleek, modern, and ultra-comfortable, our part buses provide all the amenities—including a full bar—needed to take your party on the road, with plenty of space to turn up the heat. If you want a personal club on wheels for a night you'll never forget, our party buses are right for you.
Limo: Our luxury limo experience provides VIP-level treatment on your party-filled adventure. We offer the ultimate limo experience for small to moderate sized groups who want to drink, party, and indulge in high style. With a full bar in tow, you'll get to and from your golf course destinations, setting the tone for a wild night on the town.
Exotic Car: Whether you prefer luxury, performance, elite-status, or anywhere in between, our wide selection of exotic cars is sure to exceed your expectations. We offer a wide range of American and imported exotic cars, including convertibles to hit the road in style. Travel day or night in style with the top exotic cars in the area.
Transportation Services for Bachelor Parties and Businesses
We offer the best transportation services for bachelor parties and business functions. Do you want to cap off your single years with a crazy celebration for you and your best friends? Do you need to provide your business team with a well-deserved corporate event? If so, we can provide you with a bachelor party or corporate event you'll never forget:
Bachelor Parties: If you're a groom to be, or if you want to surprise the groom to be, now's the last chance to celebrate the single life with your best friends in a luxury vehicle. We offer a range of luxury party buses, limos, and exotic cars for celebrating in style. Drive a high-performance exotic car to and from the golf course for a high-class bachelor party experience or rent a luxury limo or party bus for a wild night on the town. Feel free to relax or get into trouble in style. It's your night, choose the best option to celebrate.
Corporate Events: Do you need to impress a high-profile client to win or maintain their business? Do you want to throw the ultimate company party to celebrate a year of hard work and success? If you need to host a business function in style, we're here to provide you with a range of luxury transpiration options to satisfy your needs. Whether you're accommodating your clients, employees, and more, we offer cutting-edge party buses, limos, and exotic cars with the amenities you need for optimal fun.
The Top Five Advantages of Car Transportation Services
Cost-Effective: Contrary to popular belief, renting a vehicle is can be much cheaper than relying on public or private transportation to get around. No more exorbitant prices, waiting for late drivers, sudden cancelled pick-ups, or missed destinations: you can get around on your own quickly and efficiently, saving more money in the long run.
Time Saving: If you can't stand drivers being slow or late, arriving at the wrong pick-up spot, or taking you to the wrong destination, renting a vehicle helps you avoid all the hassle for your complete satisfaction.
Convenience: Renting a vehicle makes it easier to bring and store your luggage at reduced prices. You won't pay service fees, and you have control over where your luggage or items go. Simply put, renting a vehicle eliminates hassle.
Adventure: When you rent a vehicle, you'll allow for more discovery and excitement during your ride. Whether you want to sightsee through a new city or discover unexplored parts of a familiar city that you never knew existed, renting a vehicle will heighten your sense of adventure.
Control: With a rental vehicle you have complete autonomy over your ride. You can hit the road at your preferred time, drive anywhere you want to go, and pick any vehicle you want, all at your convenience and control.
Contact Golf Venture Today for the Best Transportation Services.